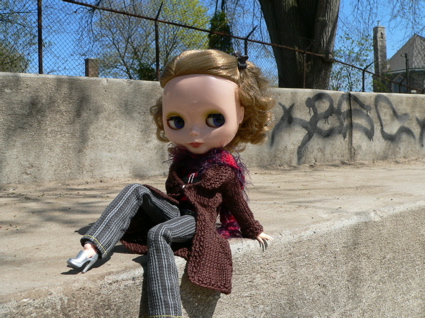 Ok, above we have what it is supposed to look like as knitted by the wonderful
Knitty
designer and modeled by a vixenish Blythe. Note the beautiful seams and the way the shawl collar folds out so luxuriously.

Below is my version as modeled by one of the 3 Wee Friends while she hangs with Bogey & Bacall. Lumpy, lumpy arm seams and my collar inexplicably curls in. I think that has something to do with the way I pick up stitches. I always have trouble with that particular skill. Not my best work but I do like my substitution of a cute button for the suggested snap at the waist.

Regarding the Wee Friends. Who is familiar with them? They always come as a set (blonde, redhead and brunette) and in a theme (winter, ballet, etc.). They're made by Mattel and are smaller and more realistic than Barbie. The daughter and I quite like them. The problem is that there do not seem to be any clothes sold separately so, you're stuck with just what comes in your set. Barbie clothes don't fit them (although, those are Ken's shoes in the picture). So, I'm knitting tiny outfits with lumpy seams. I made a delightful cable sweater last spring but the innocent looking grey cat of my previous post chewed it to bits.

Does anybody know of any commercially available clothing for these dolls?